This page provides information about Spinach nutrition. This edible plant is known as a power food in nutritional circles because of the very large amount of essential nutrients that it is known to contain.
There are two major varieties of this leaf vegetable that are commonly available: these being the flat or smooth leaf type; and the curly leaf or Savoy variety. The former variety is usually used in raw foods due to the fact that it does not have a very strong flavor. There is also a hybrid variety of spinach known as semi-savory.
Spinach botany
In the past spinach (Spinacia oleracea) was classified in the Chinopodiaceae family of plants. Following reclassification in 2003 this genus was merged with the Amaranthaceae (amaranth) family. The plant itself is an annual that usually reaches a height of about one foot (30 cm) and is a native of South West and Central Asia. Although the plant produces inconspicuous yellowy green flowers the plant is grown for its edible green ovate leaves; these can be very variable in size ranging from under one inch (2.5 cm) and up to one foot (30 cm) in length.
A little about the spinach name and origin
It is thought that spinach was first grown in the Iranian area and transferred to other parts of the world by Arab camel traders. It is known to have reached China by the early seventh century. Spreading in the other direction there is recorded evidence that spinach was used as a vegetable in the Mediterranean area by the early ninth century. The spinach name itself came about in the 14th century and derives from the Iranian word aspanakh (green hand).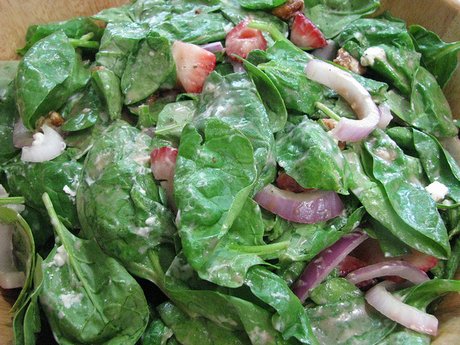 Spinach nutrition
Spinach has a rightful reputation as being a very healthy vegetable to eat. It is known to be packed full of nutrients and is low in calories and fats. Perhaps one of the minerals that it is most associated with its iron; this is because of the popular cartoon show Popeye. 100g of spinach is enough to provide 25% of the average person's daily intake of iron.
Other spinach nutrition benefits include a large amount of vitamin K (one hundred grams provides over 400% of the daily recommendations of this vitamin); and vitamin A (100g = >300% RDA). Other abundant vitamins in spinach include Folate; Vitamin C; Vitamin E; Riboflavin; B6; Niacin and Thiamin.
Spinach is also a large source of many minerals such as calcium, potassium, magnesium and zinc. Further details of spinach nutrition are given in the table below. As the nutritional value of cooked and raw spinach changes dramatically, information is provided for both of these situations.
Spinach nutrition facts and figures
Spinach nutrition content per ounce (28.3 g) : rdv = recommended daily value
 
Raw Spinach
Cooked (and drained) Spinach
Calories
6
6
Total fat
0.1 g
0.1 g
Total carbohydrates
1 g
1 g
Dietary Fiber
0.6g
2.5% rdv
0.6g
2.5% rdv
Protein
0.8 g
1.6% rdv
0.8 g
1.6% rdv
Minerals
Manganese
0.3 mg
13% rdv
0.3 mg
13% rdv
Magnesium
22.1 mg
6% rdv
24.4 mg
6% rdv
Iron
0.8 mg
4% rdv
1.0 mg
6% rdv
Potassium
156 mg
4% rdv
130 mg
4% rdv
Calcium
27.7 mg
3% rdv
38.1 mg
4% rdv
Copper
40 µg
2% rdv
40 µg
2% rdv
Phosphorus
13.7 mg
1% rdv
15.7 mg
2% rdv
Zinc
0.1mg
1% rdv
0.2 mg
1% rdv
Sodium
22.1 mg
1% rdv
19.6 mg
1% rdv
Amino acids
Glutamic acid
97 mg
100 mg
Aspartic acid
68 mg
70 mg
Leucine
63 mg
65 mg
Lysine
49 mg
51 mg
Argenine
46 mg
47 mg
Valine
46 mg
47 mg
Isoleucine
42 mg
43 mg
Phenylalanine
36 mg
38 mg
Vitamins in Spinach
Vitamin K
135 µg
169% rdv
138 µg
173% rdv
Vitamin A
2625 IU
53% rdv
2935 IU
59% rdv
Folate
54 µg
14% rdv
40.9 µg
10% rdv
Vitamin C
7.9 mg
13% rdv
2.7 mg
5% rdv
Vitamin E
0.6 mg
3% rdv
0.6 mg
3% rdv
Vitamin B6
0.1 mg
3% rdv
0.1 mg
3% rdv
Riboflavin
50 µg
3% rdv
90 µg
4% rdv
Thiamin
20 µg
1% rdv
20 µg
1% rdv
Niacin
0.2 mg
1% rdv
0.2 mg
1% rdv
Pantothenic acid
20 µg
< 1% rdv
20 µg
< 1% rdv
Vitamin B12
Trace
< 1% rdv
Trace
< 1% rdv
Choline
5.0 mg
< 1% rdv
5.5 mg
< 1% rdv
Betaine
154 mg
< 1% rdv
162 mg
< 1% rdv
Spinach health benefits
As spinach contains a large quantity of vitamins, minerals and other nutrients it is known as being one of the powerhouse vegetables of the food world. It is therefore no wonder that the consumption of spinach has been linked with having numerous health benefits. Some of the conditions that spinach has been proven to have a positive impact on include anti-inflammatory capabilities, blood pressure, vision, the immune system, bone strength and osteoporosis, stroke, nervous system, and the skin.
As Spinach carries a large amount of anti-oxidants (e.g. Vitamin E and C, manganese) consumption can help to lower damage caused by free radicals. The presence of the flavanoid group of anti-oxidants is thought to have very large anti-cancer benefits. With regards to vision this leaf vegetable contains both Lutein and zeaxanthin; both of these carotenoids are known to play a very important role in the retina and macula regions of the eye.
Vitamin K, along with calcium, magnesium, manganese and vitamin D is known to play a very important role with bone health. It is thought that the consumption of these vitamins and minerals on a regular basis, combined with weight bearing exercises such as walking, Tai chi and gardening can go a long way towards the prevention of the osteoporosis condition.
Incorporating spinach into the diet
There are numerous recipes that include spinach in them. They make a great raw ingredient for salads and they also make a great addition to lasagna and pizza; can be used in soups; is often served in a pureed form; good in curry; makes delicious smoothies; and makes a fantastic dipping sauce.
When cooking spinach it is usual to boil it as this removes most of the sour tasting acids that the vegetable are rich in; resulting in a much sweeter taste. Discard the water that the spinach is cooked in after use as it is very acidic and has little use.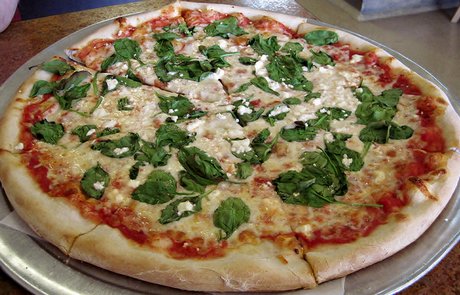 Negative health aspects of spinach
Although Spinach is linked with many positive health impacts there are some negative aspects associated with the consumption of this leaf vegetable. Perhaps the major negative aspect of spinach is that associated with the risk of pesticides; it is known as one of the twelve foods that has the highest amount of residual pesticide. Therefore it is important to wash the spinach thoroughly before use, or better still purchase organically grown spinach if at all possible.
Another key concern of spinach consumption is the large amount of oxalates that they concern. If these are over consumed it is possible for them to build up and crystallize in the body; this may lead to health implications especially for people with renal problems. It is usually recommended that people who have problems with their kidneys do not eat this vegetable.
There has been much made of oxalates ability to interfere with calcium absorption. Although the levels of oxalates found in spinach have a negative impact it is important to remember that this mineral is found at large quantities in spinach too. This means that there is still a net absorption of spinach (around 10% of total quantity) when eating this vegetable.
Spinach nutrition in summary
It has been seen that Spinach is an annual plant that originated from the Persian area and was dispersed to other areas by tradesmen in the 7th century. The amount of nutrients in spinach is extremely high and the consumption of this leaf vegetable is associated with many potential health benefits.
SPINACH REFERENCES AND FURTHER READING
Utah State University Extension; Colorado State University Extension; Nutritional information; Texas A&U; Flavanoids; Eating Well; Osteoporosis; Phytonutrients. Photographs: Header by Woodleywonderworks; Spinach Pizza by SaucyGlo; Spinach Salad by Natalie Maynor.